Our Event Photography Team
The Event Insight Team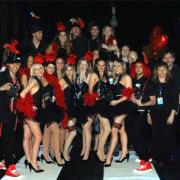 Our team consists of a core of event photographers across the South, although most of our work is London based we do cover the whole of the UK & Ireland with our specially trained photographers.
Every Photographer we use for our events has completed System Insight's (Event Insight's sister company) comprehensive training course run by Professional Photographer Mike Orr and Stuart Morley, Event Specialist.
Mike has been a professional photographer for over 20 years, but has concentrated on event photography since 1995. Mike has also been a guest speaker at the well-known SWPP/BPPA convention and the 'Nikon Solutions' exhibition at Olympia in London, as well as being asked to speak at the 'Focus on Imaging' exhibition at the N.E.C.
Stuart Morley has over 20 years of sales and marketing experience. He has also been a guest speaker for the 'Nikon Solutions' exhibition. Coupled with his knowledge of IT and systems, he is able to cope with any size of event, however challenging.
Supported by a superb, friendly and professional service we will provide full management of the preparation, from taking the shots to producing the photographs any size, for guests or clients to purchase and take home at the event.
Our expertise enabled us to set up at a the 2007 Brit Awards after-show party in London. We were able to produce a print for each of the 4000 guests in less than four hours. This capability makes us ideal for parties, product launches, promotions, corporate hospitality or any event where the WOW factor is needed!
We have covered a number of celebrity events at prestigious venues across London and the UK, where our professionalism and expertise was essential to the success of the event.
Event Insight also owns and operates the 'Photobus' , a 29 foot specially designed and technically advanced event photography vehicle, capable of producing up to 3,000 photos an hour.
We are not only able to cover events throughout the UK but we also cover event across Europe as well, often at short notice, ensuring the clients gets the best professional service.
With experienced and professional staff, we are recognised as a specialist in the Event Photography field.